Latest News
More new homes to become available at next Nuplace site
Published: Monday, 25 July 2016
We are delighted to announce that The Oaklands in Matlock Avenue, Dawley is the next new site.
Matlock Avenue is the first of four new sites being delivered by Nuplace and it is expected that it will be delivered by Lovell, who developed Phase One sites in Randlay and Madeley.
The second site in Phase Two at Madeley Court has planning permission and two further sites at Hadley and Newport are proposed subject to planning. See more in sites coming soon.
Children from Old Park Primary School have chosen both the site names – The Oaklands – and the final street names at the Matlock Avenue development.
The children were also in an artwork competition which saw them designing their dream home.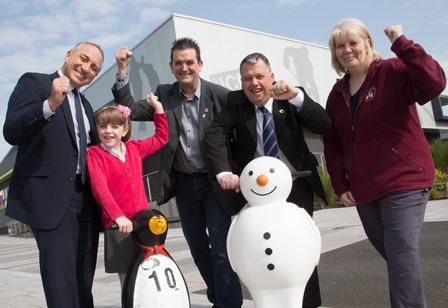 Leah wins Nuplace artwork competition
Nine year old Leah Sznober was chosen as the winner and won a family pass to Telford Ice Rink. Her artwork will also be printed on the hoarding on the outside of the new development.
Leah said: "When my teacher told me I was the winner, I was so surprised and my mum and dad didn't believe me. I really enjoyed thinking of ideas to draw the house and I can't wait to take my brother and sister to the Ice Rink."
Old Park Primary teacher Erica Fynn said: "The children have really loved this project – from using their imagination to think of new street names for the housing development to donning their creative hats and getting involved in the artwork competition.
"It's been a great opportunity for us to undertake research and learn about local history."
Matlock Avenue will feature 91 two and three bedroom homes. Some of these will be sold on the open market with the rest available for private rent, subject to an amendment to the current planning permission being approved.
Councillor Richard Overton, Telford & Wrekin Council's cabinet member for Housing, said: "This exciting new development will provide a wider mix and variety of new homes and tenures in the local area. The approach will also enable Nuplace to invest to build more homes for private rent on other sites."
Properties will be ready for owners and tenants to move into in spring 2017.
Register now with Nuplace to ensure your amongst the first to hear about rent prices, site maps and floor plans for The Oaklands, Dawley.